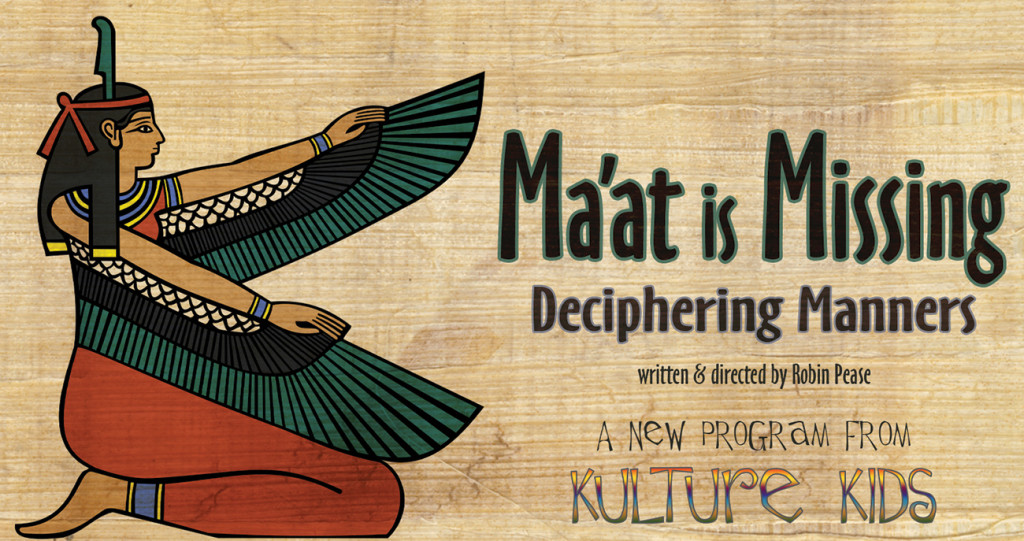 FREE Family Performances at Your Local Library
Through the generous support of Cuyahoga County residents, through Cuyahoga Arts & Culture, Kulture Kids and the Cuyahoga County Public Libraries are pleased to offer FREE performances of Kulture Kids' newest original program, Ma'at is Missing: Deciphering Manners.
What happened to the Golden Rule? Children and their families are invited to journey with an archaeologist in search of The Lost Temple of Ma'at, the Egyptian goddess of truth, justice, and civility. Ancient Egypt comes to life in a spectacle of magic, music, dance, and hieroglyphics that urges us all to remember our manners.
This program's content is ideal for children ages 4-12, but all ages are welcome to attend. Times subject to change, please check the Cuyahoga County Public Library's website for up-to-date event listings.
Library Branches, Dates, and Times
| Location | Date | Time |
| --- | --- | --- |
| CCPL – Gates Mills | 9/2/2015 | 10:00AM |
| CCPL – Warrensville Heights | 9/8/2015 | 4:00PM |
| CCPL – Solon | 9/28/2015 | 7:00PM |
| CCPL – Brook Park | 9/29/2015 | 7:00PM |
| CCPL – Parma Heights | 10/1/2015 | 4:00PM |
| CCPL – Brecksville | 10/3/2015 | 2:30PM |
| CCPL – Berea | 10/7/2015 | 7:00PM |
| CCPL – Independence | 10/15/2015 | 7:00PM |
| CCPL – North Royalton | 10/17/2015 | 10:00AM |
| CCPL – Parma – Snow | 10/24/2015 | 10:00AM |