Pushing Up The Sky
The birds, animals and Native people boast, brag and call each other names.  Can they learn to work together to solve a problem of a sky that is too low to the ground?  Join in the telling of this Native American legend by becoming these creatures, singing and speaking the Mohawk language.  Ages 3-10. Great for families!
Cheating Does Not Pay
Many summers and winters in the past, a contest gave birds the chance to win the most beautiful song. This participatory tale is accompanied by a hands-on exploration of a Native American craft. Ages 3-10, Great for families!
Native American Folklore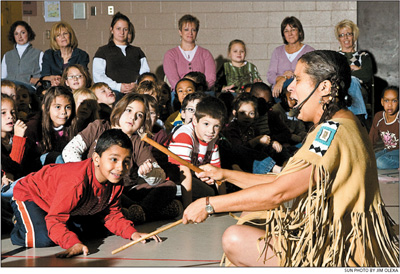 Hands-on Workshop in sign language, pictographs, music, dance, cooking, clothing and other traditions. Ages 8 and up.
Touch the Earth
A man who tends Mother Earth is bullied by those who take her gifts for granted.  When the Spirit of the Corn takes away Earth's most important gift, will the people learn to give thanks or continue to bully the one man who stands up?  Great for ages 8 years old and up  and adults of all ages.
MORE:
See our Science programs for Sacajawea and Plants and our Social Studies for the programs Great Law of Peace, Pocahontas, and Sacajawea.