MA'AT IS MISSING: Deciphering Manners
What happened to the Golden Rule? The audience is invited to journey with a zany (and not so polite) archeologist in search of the lost Temple of Ma'at, the Egyptian goddess of truth, justice and civility. Ancient Egypt comes to life in a spectacle of magic, comedy, dance and hieroglyphics that urges us all to remember our manners.
In The Storm
Commissioned by MetroHealth Hospital and Cleveland Public Theatre, this one-woman performance was developed from interviews with doctors, nurses, social workers, police, media relations personnel, and clergy. In the Storm tells how gunshot wounds impact not only the victims and families, but the caregivers who work to save lives.
The Great Law of Peace
Meet Ben Franklin, Hiawatha, Columbus and many others as the origins of our Constitution is revealed by the Iroquois Confederacy. Ages 11 to Adult
Pocahontas on Trial
Is the legend fact or fiction? Under the guidance of our judge, the audience become attorneys, jury and witnesses to decide what really happened in Jamestown. Ages 11 to Adult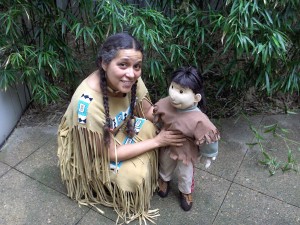 My Name is Sacajawea
Meet Sacajawea, a Shoshone Indian who traveled with Lewis and Clark and her baby, Pomp as you share in song, her story and the story of why we sing to plants. Grades 3 and up.
Didjaknow
A participatory Game Show using information about the Constitution, government, Native Americans, Explorers and the 13 Colonies. Everyone will be amazed at how much they know…or should know. A good companion to THE GREAT LAW OF PEACE. Ages 11 to Adult
Lucy Bagby and The Fugitive Slave Law
Learn the true story of Lucy Bagby, a runaway slave who was captured amid protests of abolitionists, and returned to her Master. She was the last fugitive to be surrendered by the North under the Fugitive Slave Law during the Civil War. Sing along with Wade in the Water, Follow the Drinking Gourd, and other period songs Grades 3 to adult, families.
America, Many Crayons, One Box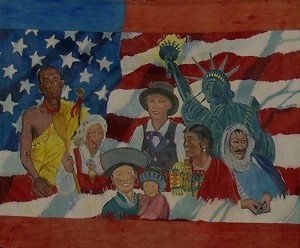 Solve a mystery and sing along to discover that America is just like different crayons all in one box. Explore the many gifts of the immigrants and realize that the best of all cultures is what makes us Americans. Grades K-4 & Families.