Character, Setting, Plot!
Using dramatic activities as a prompt, bring a story to life and create new stories as a group, writing narrative accounts that develop character, setting and plot. Students will explore drama, music and movement as a means of creative expression as the Artist works with the class to write and rehearse a SHORT group presentation piece that can be performed for an audience.   Grades 2 – 5.
Curricular TV Commercials
Gather facts and information from Science (such as: Food Chain, Effects of Weathering on the Landscape, Clouds, see list below.), then write a script using details and examples to illustrate the main idea of the specific chosen science curriculum. Finally, use drama tools and techniques to share these findings with others by creating a TV commercial or live slide show to be rehearsed and performed for the class.  Grades 2-8.
HIP HOP CURRICULUM:  Write Song Lyrics!
Learn songwriting vocabulary, explore rhyme, rhythm and tempo. Choose a topic and get writing! If time permits, add music , dance, make a book of the lyrics and record the song.  Grades 2-8.
Encounter the Culture
A classroom size group explores hands-on Latin American OR Native American culture, music, stories, and activities to enhance the study of People in Societies and discover the geography of the western hemisphere.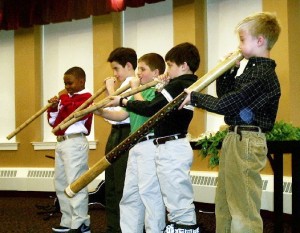 Formal & Informal Letters about the Arts & Culture
Explore some of the diverse cultures of our country with story, music, dance, and other activities, then write informal letters to family and friends to share what you have learned or formal letters to cultural organizations to request more information, ask questions, or acknowledge the beauty of the culture. Limited to a classroom-size group.
Communication: Oral Interpretation
Discover the theatrical vocal techniques of diction, pitch, tempo, expression, and volume that enable students to read aloud a work of literature in order to communicate its' intellectual and emotional meaning. Then students learn to add theatrical physical techniques to the reading for successful communication, oral and visual to a group.  Grades 3-8.
Sacajawea and the Plants that Saved America
Meet Sacajawea, a Shoshone Indian who not only traveled with Lewis and Clark carrying her baby across dangerous terrain, but also helped provide the expedition with native fruits and vegetables that saved them from scurvy and fed them when there was no food to eat. Join her exploring the Life Science of plants to discover th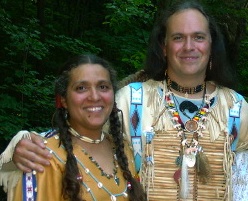 eir uses as food, medicine, clothing, and shelter both yesterday and today. Participatory Workshop for 30 or under. Grades 3-7.
Didjaknow?
A participatory Game Show using information about the Constitution, government, Native Americans, Explorers and the 13 Colonies. Everyone will be amazed at how much they know…or should know. A good companion to THE GREAT LAW OF PEACE. Ages 11 to Adult
Native American Folklore
Hands-on Workshop in sign language, pictographs, music, dance, cooking, clothing and other traditions. All Ages.