NATIVE AMERICAN TALES:
Pushing Up The Sky: Become birds and beasts to discove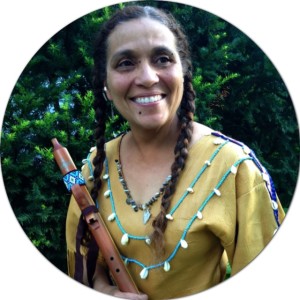 r the benefits of
working together.  AGES 3-9. Great for families!
Touch the Earth:  Mother Earth takes away man's
most important resource, Will the people learn to
give thanks or perish in this tale? AGES 8 – adult.

The Great Law of Peace: Ben Franklin, Hiawatha, Columbus & others reveal the basis of our Constitution.
Aurora City schoolteachers in Ohio have said, "This taught my whole curriculum in 45 minutes." AGES: 11 – Adult.
Sacajawea:  Meet Sacajawea, a Shoshone Indian who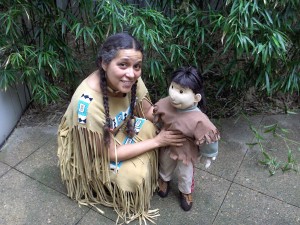 not only traveled with Lewis and Clark carrying her baby
across dangerous terrain, but also helped provide the expedition with native fruits and vegetables that saved them from scurvy and fed them when there was no food to eat. AGES 8-11.  This is available on request.
LATIN AMERICAN TALES:
La Tortuga Sin Amigos: A turtle bullies his friends.  Will he learn the v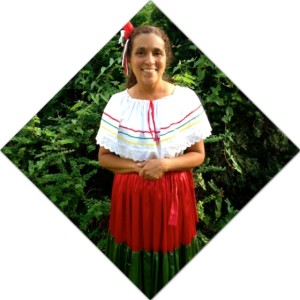 alue of an apology, manners and friendship in this participatory tale told in Spanish and English? AGES 3-9. Great for families!
Dos Cuentos, Dos Lenguajes: Use the power of
reading to outsmart a magician and discover, at a
library, the benefits of being bilingual in these two participatory tales told in English and Spanish.
Great for LIBRARIES and families! AGES 3-9.
AFRICAN TALES: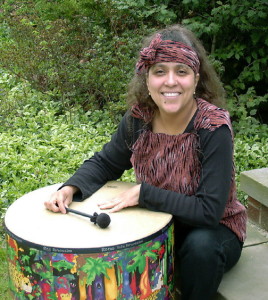 Sparkly Skin: A frog learns the importance of             listening and following directions in this participatory tale.  AGES 3-9, Great for families!
Talk, Talk, Talk: A talking yam? A talking river? Learn this story/dance and discover sometimes there is just too much talking. AGES 3-9. Great for families.
WORKSHOPS available in:
Hip Hop Curriculum:  Write Song Lyrics!
Learn songwriting vocabulary, explore rhyme, rhythm and tempo. Choose a topic and get writing! If time permits, add music , dance, make a book of the lyrics and record the song.  Grades 2-8.
Quipu:  The Writing System of the Incas (in Spanish and English)
A classroom size group explores hands-on the ancient Incan device, consisting of various colored threads, for recording information.  Decipher the knots to discover Spanish proverbs.  Great for Spanish classes and Grades 5-8.
Native American Folklore:  Hands-on Workshop in sign language, pictographs, music, dance, cooking, clothing and other traditions. All Ages.
Storyboard:  Using dramatic activities as a prompt, bring a story to life and create new stories as a group, writing narrative accounts that develop character, setting and plot. Artist works with the class to write and rehearse a SHORT group presentation piece that can be performed for an audience.   Great for Grades 2 – 5.
Talking Tableaux: Poetry And Drama:  Tableaux are a series of living still pictures. Students will discover the skills needed to work in a group forming a series of pictures that aid in reading comprehension. Great for Grades 2 – 5!
Dilemma Tales are traditional African stories where the resolution of the story's problem is left up the reader's prediction.  Students will be assigned roles to portray as they read aloud a tale using vocal expression and rhythm.  When the story stops abruptly, students will predict solutions to the dilemma. Great for Grades 2-5.
ALSO…see Programs for Adults: Speaking/Keynote presentations